Director Sheng Qiuping encouraged Yuanda to innovate and develop in 2021 and make new contributions!
On the first day of the New Year of the Ox, Director of Zhejiang Provincial Department of Commerce Sheng Qiuping and Deputy Director Hu Zhenfang led the heads of the Office, Personnel Department, Trade Development Department and Foreign Trade Center to visit Broad Company to visit all employees and send New Year wishes.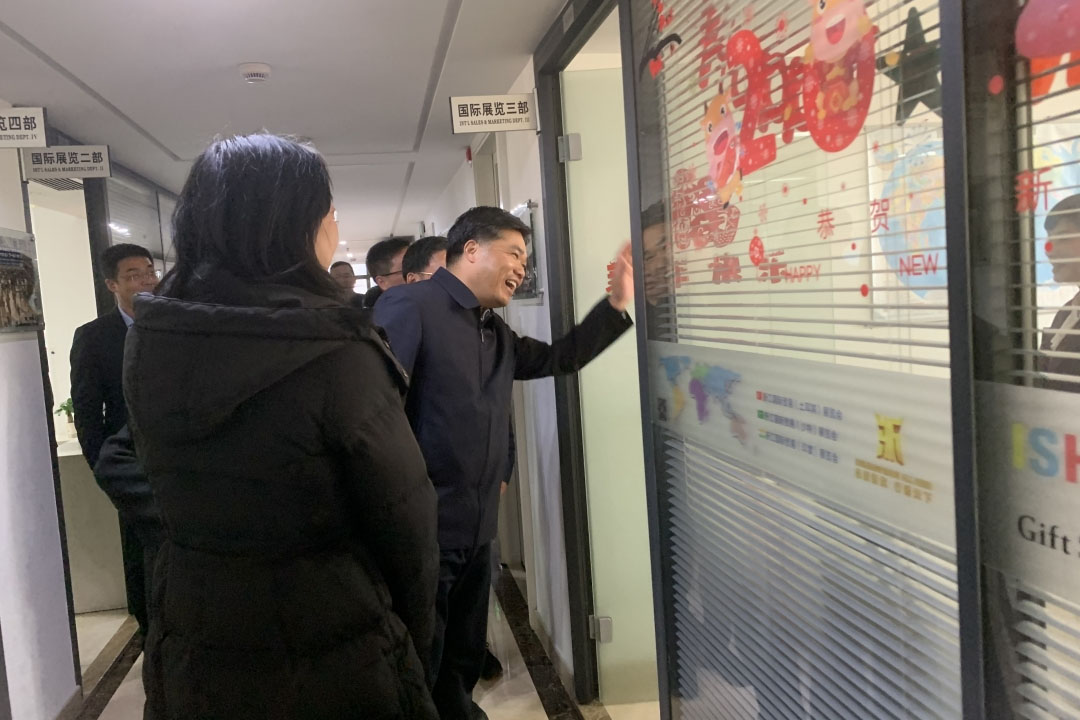 Director Sheng Qiuping pointed out that this year's business tasks are relatively heavy. Today is the first day of work for the Lunar New Year. In the morning, the provincial party committee held the province's digital reform conference. Secretary Yuan Jiajun proposed to comprehensively promote digital reform and strive to create a major landmark achievement of "important windows". The Department of Commerce has three tasks: a global digital trade center, dual circulation and digital life. The dual circulation domestically involves consumption, and overseas involves trade and investment, connecting the other two. When talking about the work of BROAD in 2021, it emphasized that three important things should be done well.
First, to create a never-ending online trade fair. On the basis of last year's online trade fair, Yuanda should fix the online trade fair. It should combine its own abundant customer resources and the advantages of customers, and learn from Alibaba, Canton Fair, Hong Kong Trade Development Council and other online exhibition models. , to create a never-ending online trade fair.
Second, it is necessary to integrate resources and contribute to the promotion of the Central and Eastern European Expo. This year's Central and Eastern Europe Expo will achieve five comprehensive upgrades: upgrade the grade, enhance the scale, enhance the efficiency, enhance the influence and improve the level of epidemic prevention and control. To this end, it is necessary to integrate the resources in the hall. BROAD will play the main game in the Central and Eastern European Expo, specially hold 17 national ambassadors and live broadcasts, and make the Central and Eastern European Expo into a Zhejiang Import Expo.
3. We must always pay attention to the overseas epidemic situation and restart overseas exhibitions in a timely manner.
Sheng Qiuping finally pointed out that BROAD is the brand of our department of commerce, we must make bold innovations in reform, and we must innovate in structure and incentive mechanism according to the modern management system, as a model for innovation. Let Yuanda not only undertake public functions, but also stimulate resource elements, establish a talent mechanism of "near people enjoy, distant people come", and let various elements compete and concurrently.
Recommended article
On November 27, 2020, the opening ceremony of the Zhejiang Pavilion of the 17th China-ASEAN Expo was successfully held at the Nanning International Convention and Exhibition Center. The opening ceremony was presided over by Chen Zhicheng, Director of Trade Development Division of Zhejiang Provincial Department of Commerce, Mr. Gao Yi, Deputy Secretary-General of Zhejiang Provincial People's Government, Mr. Han Jie, Deputy Director of Zhejiang Provincial Department of Commerce and First-Class Inspector, and Deputy Director of China-ASEAN Expo. Secretary General, Mr. Shi Zuyao, Deputy Director of Guangxi International Expo Affairs Bureau, Mr. Huang Han, Deputy Director of Guangxi Zhuang Autonomous Region Civil Air Defense and Border and Coastal Defense Office, Mr. Jalug Grittavi of China-Thailan...

The 13th Zhejiang Export Commodities (Osaka) Fair, hosted by Zhejiang Provincial Department of Commerce and co-organized by Zhejiang Yuanda International Exhibition Co., Ltd. and Osaka International Economic Promotion Center, was held at the Osaka International Exhibition Center (INDEX OSAKA) in Japan from December 15 to 17. Held in Hall 2.

On the morning of February 26, in order to strengthen cooperation opportunities in the post-epidemic era, Chen Cui, General Manager of Zhejiang Yuanda International Exhibition Co., Ltd., and Panama Ambassador to China Gan Lin and Panama Embassy Commercial Counselor John in China made a cloud connection to discuss and focus together. Opportunities for cooperation between the two parties in the post-pandemic era.