The "Zheli" of the China-ASEAN Expo is at the time | The 17th China-ASEAN Expo officially opened!
On November 27, 2020, the opening ceremony of the Zhejiang Pavilion of the 17th China-ASEAN Expo was successfully held at the Nanning International Convention and Exhibition Center. The opening ceremony was presided over by Chen Zhicheng, Director of Trade Development Division of Zhejiang Provincial Department of Commerce, Mr. Gao Yi, Deputy Secretary-General of Zhejiang Provincial People's Government, Mr. Han Jie, Deputy Director of Zhejiang Provincial Department of Commerce and First-Class Inspector, and Deputy Director of China-ASEAN Expo. Secretary General, Mr. Shi Zuyao, Deputy Director of Guangxi International Expo Affairs Bureau, Mr. Huang Han, Deputy Director of Guangxi Zhuang Autonomous Region Civil Air Defense and Border and Coastal Defense Office, Mr. Jalug Grittavi of China-Thailand Chamber of Commerce, Vietnam Trade Promotion Bureau Hangzhou Trade Promotion Office Director Mr. Wu Jinxiong and other guests attended the opening ceremony.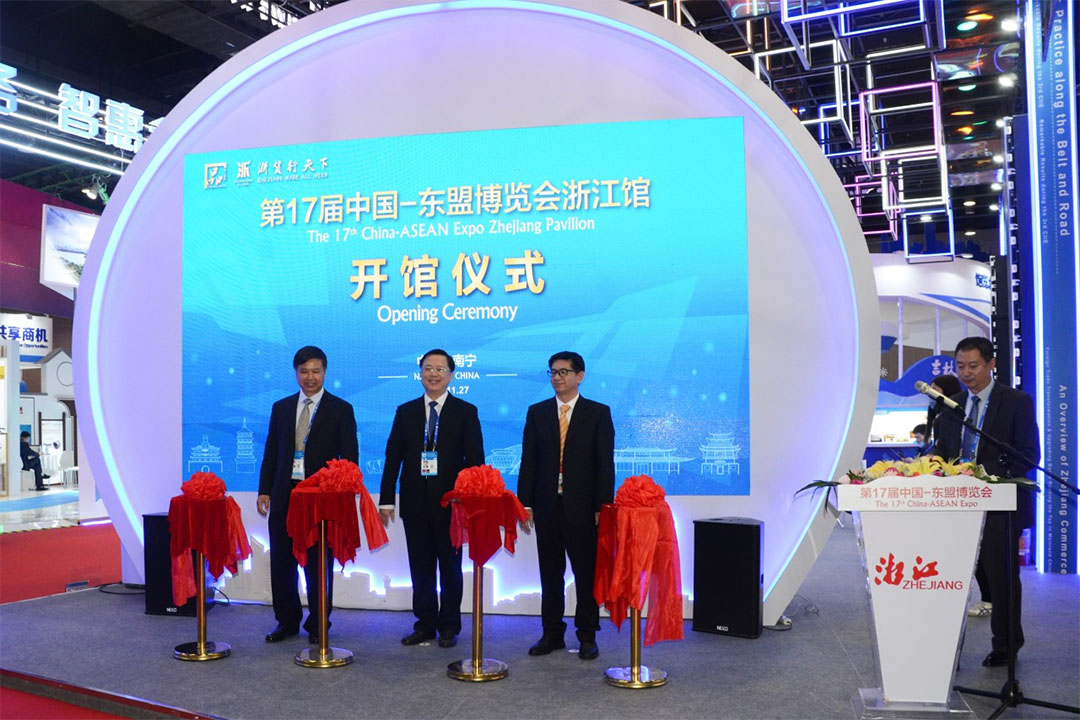 The China-ASEAN Expo is an international economic and trade event co-hosted by the economic and trade departments of the governments of China and the 10 ASEAN countries and the ASEAN Secretariat, and undertaken by the People's Government of Guangxi Zhuang Autonomous Region of China. The exhibition has become a national key exhibition with special international influence, and has played an important role in promoting China-ASEAN friendly cooperation, serving the "Belt and Road" construction, and promoting international production capacity cooperation. Our province has always attached great importance to the economic and trade cooperation with the ASEAN region. Zhejiang Province has been one of the important cooperation provinces of the Expo since its participation in the first expo. , the quality and scale of the group are highly recognized by the Expo Bureau.
Zhejiang is committed to creating an all-round, multi-level and wide-ranging pattern of opening to the outside world. Recently, the Regional Comprehensive Economic Partnership (RCEP), which has been negotiated for 8 years, was officially signed, and the free trade zone with the largest population, the largest economic and trade scale, and the most development potential in the world has officially set sail, injecting new vitality into bilateral cooperation. It also provides an important platform for Zhejiang Province and ASEAN countries to expand trade and investment. In this context, it is the right time to use the platform of China-ASEAN Expo to promote Zhejiang and show its strength.
At the opening ceremony of the Zhejiang Pavilion, Deputy Secretary-General Gao Yi of the People's Government of Zhejiang Province said: Zhejiang is a major foreign trade province, and has always attached great importance to cooperation with emerging markets. ASEAN, as an important import and export market of Zhejiang, has a close relationship with us. , geographical proximity, convenient economic and trade exchanges, and frequent business cooperation. Zhejiang is a major province of China's digital economy and has unique advantages in digital economic cooperation. This year is also the China-ASEAN Digital Economic Cooperation Year, which has provided a good opportunity for the two sides to carry out in-depth digital trade and cooperation. Zhejiang is also willing to pragmatically promote bilateral information technology cooperation, promote industrial transformation and upgrading, and drive the high-quality development of domestic and foreign trade.
Witnessed by many guests, the Zhejiang Provincial Department of Commerce signed a memorandum of cooperation with the China-Thailand Chamber of Commerce, the Zhejiang International Investment Promotion Center and the Hangzhou Trade Promotion Office of the Vietnam Trade Promotion Bureau. The capital increase project of Longjiang Industrial Park in Vietnam and the Zhongtian Thailand housing construction project were also officially signed. The contract amount was about 479 million US dollars, and the results were remarkable.
In the first three quarters of this year, the economic and trade exchanges between Zhejiang and ASEAN were gratifying. From January to September, the province's total import and export to ASEAN was 316.40 billion yuan, a year-on-year increase of 19.3%, of which exports were 208.18 billion yuan, accounting for 11.5% of the province's exports, a year-on-year increase 18.3%, the main export commodities are electrical equipment, steel, general machinery and equipment. During the same period, Zhejiang Province imported 108.22 billion yuan from ASEAN, and the proportion of exports climbed to 17.2%, a significant increase of 21.1% over the same period of the previous year, mainly plastic semi-finished products, refined oil and basic organic chemicals.
In this China-ASEAN Expo, Zhejiang Province organized 28 companies to participate in the exhibition. The exhibits involved food packaging, electromechanical, building materials, new energy and other fields, including the Shengzhou Kitchenware Feature Exhibition Area and the Zhejiang Pavilion, with an exhibition area of ​​600 square meters. Online display at the China-ASEAN Expo. China-ASEAN Expo provides a broad platform for buyers and investors to conduct online and offline interactions and in-depth exchanges with our Zhejiang enterprises, and also provides a good opportunity for Zhejiang Province to participate in RCEP to establish a regional comprehensive economic partnership Chance.
Recommended article
The 13th Zhejiang Export Commodities (Osaka) Fair, hosted by Zhejiang Provincial Department of Commerce and co-organized by Zhejiang Yuanda International Exhibition Co., Ltd. and Osaka International Economic Promotion Center, was held at the Osaka International Exhibition Center (INDEX OSAKA) in Japan from December 15 to 17. Held in Hall 2.

On the first day of the New Year of the Ox, Director of Zhejiang Provincial Department of Commerce Sheng Qiuping and Deputy Director Hu Zhenfang led the heads of the Office, Personnel Department, Trade Development Department and Foreign Trade Center to visit Broad Company to visit all employees and send New Year wishes.

On the morning of February 26, in order to strengthen cooperation opportunities in the post-epidemic era, Chen Cui, General Manager of Zhejiang Yuanda International Exhibition Co., Ltd., and Panama Ambassador to China Gan Lin and Panama Embassy Commercial Counselor John in China made a cloud connection to discuss and focus together. Opportunities for cooperation between the two parties in the post-pandemic era.